Covid 19 pandemic has caused instability in the economy.  For example, consumers aren't going to be willing to spend as much money if they know there's a disease, because they know their life or a loved one's life might be at risk. 
Consumers are going to shift their spending habits away from anything that is not essential. Opinions may differ on how exactly the world was affected by the pandemic. What is clear, though, is that many countries' economies suffered as a consequence of quarantines and the scarcity of goods. 
When will the pandemic be over or when will things return back to normal? A question being asked by most consumers.
Well, to be honest, I think our lives won't return to a pre-pandemic normal. The novel coronavirus isn't going to disappear, and so our lives will change. One thing is certain: many of our old habits have changed, in some cases, permanently.
1. We've taken a DIY approach
While some were looking for ways to manage their daily tasks, others were searching for ideas to relieve boredom.

There is no doubt that search interest in "how to" has increased massively in the last year. This is exactly what we expected to see given that there is a real trend towards self-directed learning and online education.
💡 People have become more interested in skills they can use on their own, and more willing to invest time and money into skills they don't yet have. People are looking for ways to differentiate themselves in a job market that is becoming more skill-based.
2. Shopping inspiration
Online shopping has grown exponentially in recent years. We're seeing individuals turn to the internet for everything from deciding what they want. Window shopping has been largely eliminated due to the increased pace of our lives, along with an increased reliance on technology in general. 
What was once an escape has become an activity that we complete on our off-hours or weekends. 
The average consumer looks for inspiration before making a purchase. This habit of mind has resulted in an industry of services and products designed to help consumers "get inspired" by a variety of sources. 
For e.g, Most people who love going to the gym but were unable to due to the pandemic. A majority of them started to search for "home gym ideas".
💡In the past, customers would visit a brick-and-mortar store to look at products and listen to instructions. Today, people looks for inspiration; they want to visualise; they want to learn.  People are moving away from physical stores in favor of digital experiences because they can do things much more efficiently, as well as be more creative in how they get things done.
3. Embracing Remote working accessories
The concept of "working from home" was new to most people during the pandemic, and many were unsure how to implement it effectively in their lives.
Things have changed, however, more people are recognizing the value of working remotely from home, and many are taking advantage of it.
💡People searching for ways to improve their home work space. So they've started searching for office furniture and accessories online. Some common search terms were "high adjustable desk" and "comfortable office chairs". 
4. Virtual hangouts & Chat communication
Ever since the adoption of the smartphone, we've been able to rely on new forms of communication and social media platforms to stay in touch.
A recent poll I've run on LinkedIn shows how workers prefer communicating.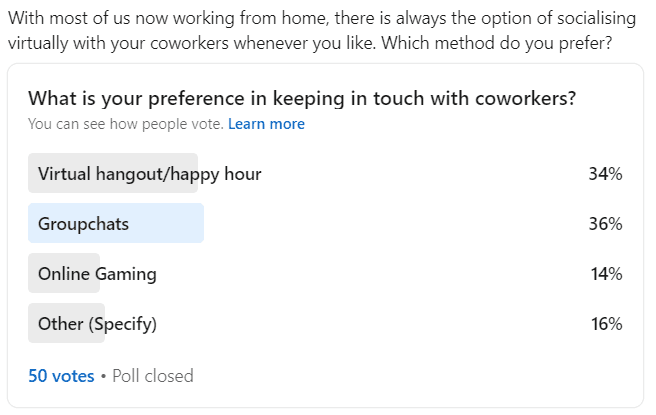 It can be clearly observed that chat was the most preferred mode of communication that most coworkers were using. It is a quick and easy way to reach a consumer, whether it's through sharing a laugh, a sad moment, or an issue that needs to be addressed. 
With virtual hangouts, just as with in-person meetings, big ideas take shape and happen more easily than before. In fact, most people use hangouts to do more than just talking — they hang out to accomplish tasks, specific projects, or just socialize with like-minded folks.
Gamifying social media has helped push people to interact in more meaningful ways especially when it comes to gaming.  When used effectively, social games can serve as a powerful communication and relationship-building tool among employees.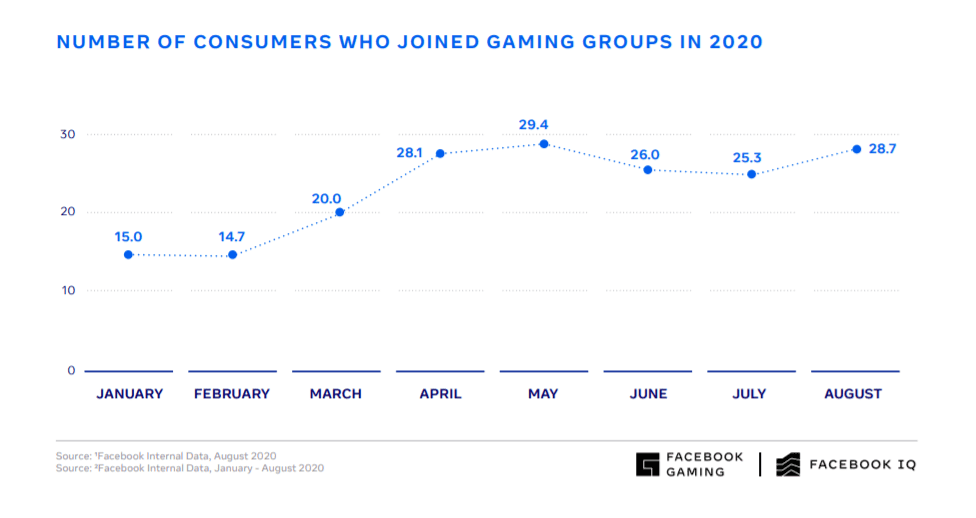 💡  There is a paradigm shift that is taking place in the way people are communicating. This shift is mostly from chat applications, social apps and has been further influenced by the introduction of the app clubhouse. All this movement towards these new ways of communication is creating a disruption in how people create and nurture their social connections. These disruptions will force businesses – especially professional service businesses – to pivot their marketing strategies if they want to survive the coming months and years.